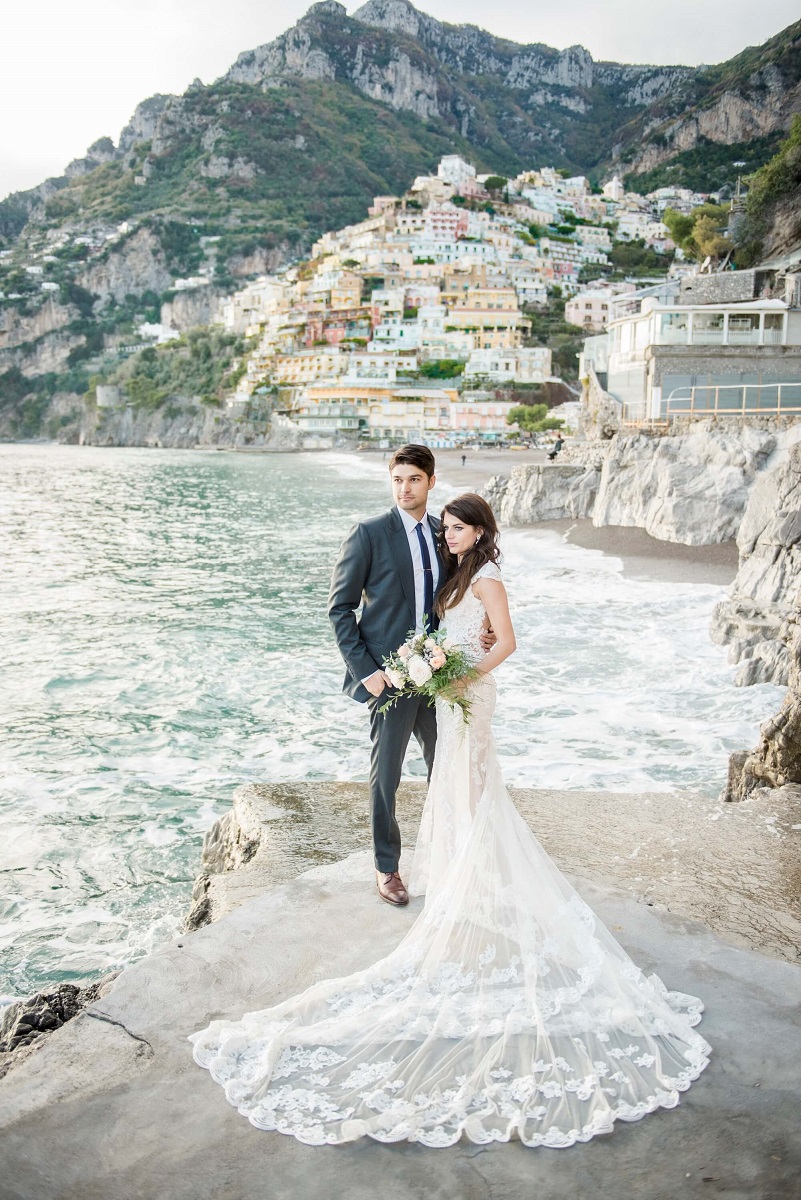 If you're searching for a luxury wedding destination that's not only unforgettable but also infused with a dash of whimsy, the Amalfi Coast is your dream come true! Italy reigns supreme as the ultimate locale for romantic celebrations, and the Amalfi Coast encapsulates the very essence of Italian culture, cuisine, and breathtaking vistas. What makes it even more enticing is its accessibility from virtually anywhere.
The Amalfi Coast, with its dramatic cliffs and charming coastal towns, promises a wedding experience that's nothing short of magical. Picture saying "I do" against a backdrop of stunning Mediterranean landscapes, surrounded by the aroma of citrus groves and the azure sea. The Amalfi Coast is a feast for the senses, from its delectable cuisine bursting with flavor to its enchanting culture deeply rooted in history. What's more, the region's ease of access means that you and your guests can embark on this unforgettable journey with convenience. Your whimsical Amalfi Coast wedding promises not just a day, but a cherished memory that will last a lifetime.
Here Are The Reasons Why Luxury Weddings On The Amalfi Coast Are Famous:
Embracing La Dolce Vita: Luxury Weddings on the Amalfi Coast
Its typical Italian ambiance is the first reason this gorgeous venue is a great choice for your big day.It feels like a dream come true with the Italian "Dolce Vita" aesthetic, which is ideal for people who want their wedding to be exceptionally luxurious! There are charming churches and elegant residences that exude European charm. Not to mention the magnificent views of the Mediterranean that will make any celebration genuinely unforgettable.
Creating Unforgettable Moments in the Enchanted Amalfi Coast Villages
We can't wait to organize the wedding of your dreams in the enchanted villages of Positano, Ravello, and Amalfi, as well as in the charming and gorgeous surroundings of Sorrento. To create the backdrop for your most priceless moments, we have handpicked some of the most picturesque and distinctive spots. With our extensive network of reliable partners across Italy, we can provide you with a carefully selected group of suppliers who share your commitment to excellence and quality. Simply let us know what you need, and we'll make it happen. In addition, we can plan a more private, smaller ceremony in one of our breathtaking settings, including the charming towns on the Sorrento Peninsula or the lovely beaches of Positano.
Elevating Guest Experiences: Crafting Unforgettable Moments on the Amalfi Coast
Making sure that every guest has a great time while staying at your venue is another important component of planning a luxury wedding on the Amalfi Coast. There are countless ways to make this happen, such as offering welcome baskets full of food and beverages to guests upon their arrival, setting up transportation between venues if needed, or planning enjoyable activities for the duration of the weekend festivities. Considering your guests' experiences will help ensure that your wedding is truly unforgettable.
To ensure that everyone has something fun to do while visiting your location, think beyond the box and provide extras like spa services or golf outings! Furthermore, keep in mind that the comfort of each visitor throughout their stay at your venue is what really matters, so don't overlook the little things like welcoming baskets or enjoyable activities planned for the entire weekend that go a long way toward making everyone feel valued! Small touches like this will make your Amalfi Coast luxury wedding very immersive for all guests.
A Culinary Extravaganza: Amalfi Coast's Irresistible Italian Flavors
Without the world-famous Italian cuisine, what would a lavish wedding on the Amalfi Coast be? A trip to Italy wouldn't be complete without sampling some delicious cuisine! Some of Italy's most well-known foods, like freshly prepared pasta and wood-fired pizza, can be found around the Amalfi Coast. Your guests can experience a variety of traditional eateries while touring this stunning region, in addition to savoring delectable local cuisine during your reception. The crazy backdrops in this gorgeous locale are the third reason you should pick it for your wedding. Imagine exchanging vows beneath an old tree among a verdant forest, or on top of a steep cliff overlooking the azure ocean. Regardless of the location of your opulent wedding, the Amalfi Coast provides an abundance of stunning photo options ideal for immortalizing moments on camera!
Italian Wedding Splendor: Crafting Your Dream Celebration with Expert Precision
Italy boasts a well-developed wedding industry, making it a top choice for couples seeking a dream wedding experience. Its popularity as a wedding destination ensures easy access to a wealth of experienced planners, vendors, and service providers who are well-equipped to turn your vision into a reality. Italian wedding planners are renowned for their expertise in crafting elegant and memorable celebrations. They have a deep understanding of the local customs, traditions, and venues, allowing them to tailor your wedding to your unique desires. From intimate elopements to grand affairs, they can bring your dream event to life.
Italy's robust vendor network encompasses everything from world-class caterers, talented photographers, and exquisite florists to top-notch musicians, ensuring that every aspect of your wedding is executed with excellence. With the support of these professionals, you can rest assured that your Italian wedding will be a seamlessly orchestrated, unforgettable affair.
Conclusion: A Mediterranean Dream Come True
Luxury weddings on the Amalfi Coast are famous for a multitude of reasons, from the natural beauty of the region to the exclusive venues, world-class accommodations, and the allure of celebrity weddings. These extravagant events offer couples an unparalleled opportunity to celebrate their love in a picturesque and culturally rich setting. While they come with a substantial cost, the experience and memories created are often considered priceless.
As couples increasingly seek out unique, authentic, and sustainable experiences, luxury weddings on the Amalfi Coast continue to evolve and adapt to meet their desires. The region's timeless charm, combined with a touch of modern luxury and sustainability, ensures that it will remain a coveted destination for couples looking to turn their dream wedding into a Mediterranean reality.
                                                                                                         "Amalfi's Elegance Unveiled: Luxury Weddings on the Coast of Dreams"