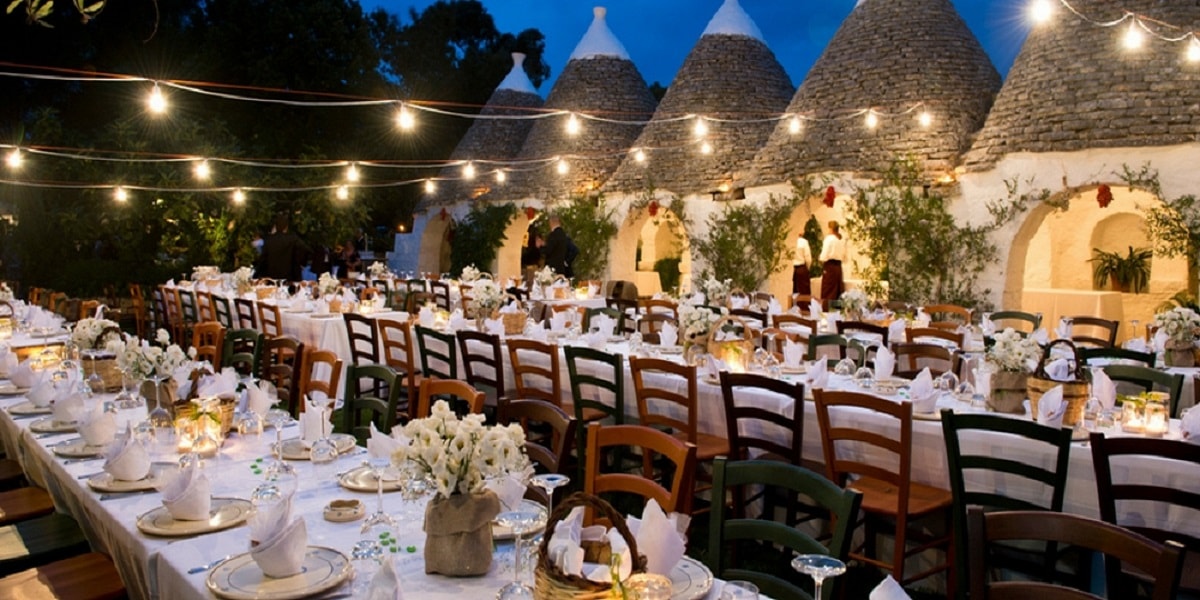 Secular olive trees by the sea, 18th-century trulli village or typical masseria: you only have to choose
Have you always dreamed of a unique and unforgettable location for your wedding in Puglia? Well, stop dreaming and start discovering some of our luxury Puglia wedding venues that could make your dream come true.
If you want to get married in Apulia, there are many options you can choose from, such as a ceremony under ancient olive trees near the sea, a beach party, an open-air wedding reception in a delightful 18th-century Trulli village, a country chic wedding in a typical farmhouse.
Whatever the setting or the wedding location that most strikes your imagination, we are able to customize your tailor-made luxury wedding in Italy, thanks to our professional and expert suppliers who will make your wedding day such an exciting experience, that you and your guests will never forget.
In the heart of Apulia, on the Adriatic Sea, in the small town of Fasano, you will discover the most famous luxury resort in Italy: Borgo Egnazia. It represents the living experience of Puglia, told by the details of an architecture unique in the world, the beauty and secular culture of the territory. Much more than a resort, it embodies a new concept of hospitality, based on local and authentic experiences.
In the heart of Salento, a few kilometers from Cellino San Marco, the internationally famous Italian singer Al Bano Carrisi has created a village in his family estate. Surrounded by woods, olive groves and vineyards, the ancient Masseria Curtipetrizzi has been transformed from a 16th century farmhouse into a luxury village, with a hotel, a wine cellar, a restaurant and a resort.
Hidden in the lush greenery of Selva di Fasano, where the Itria Valley plunges into the nearby Adriatic Sea, a few kilometers from Alberobello and Ostuni, among cherry and olive trees, pines and oaks, there is an authentic and characteristic village of trulli: Tenuta Monacelle. Getting married at Tenuta Monacelle means getting married in a village of trulli, with its fascinating and unparalleled architectural style, which covers a total area of almost 20 hectares, with 7 rooms in "trullo" and 41 rooms in "masseria".