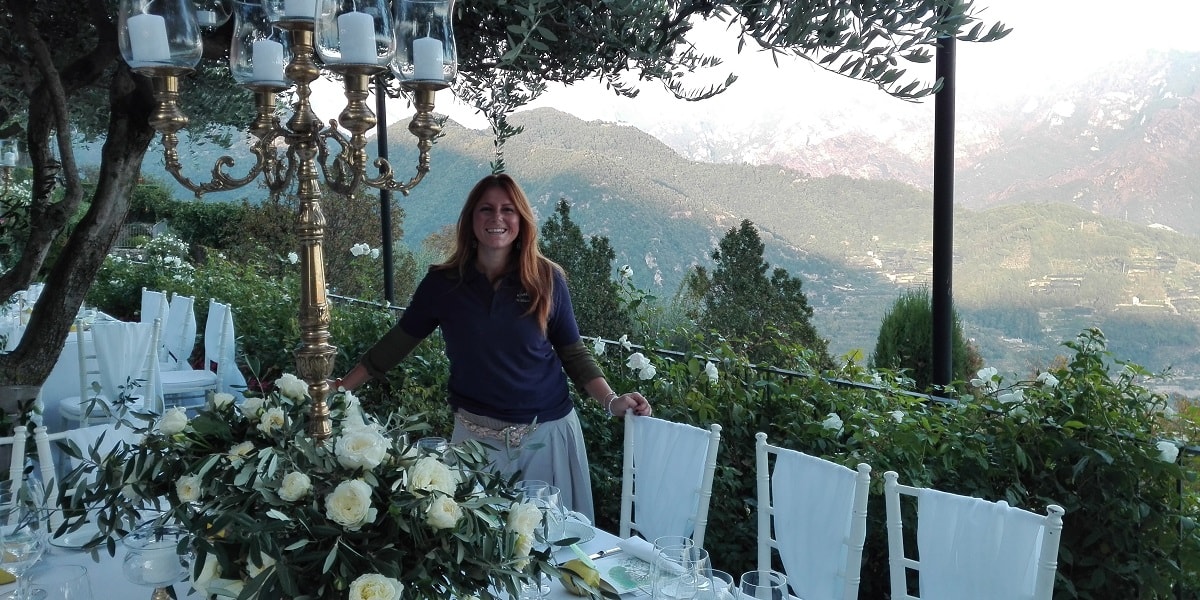 I'm Ines Napolitano, a wedding planner at your service, nice to meet you
Dear bride and groom, is a real pleasure to introduce myself, my passions and my job, that is part of my life.
I am Ines Napolitano, your wedding planner, but also the mother of a beautiful child, Riccardo Maria, and the wife of a man I deeply love. Together with our dog Rudy, that is part of our family, we live in the town of Scala, on the Amalfi Coast.
I am a sunny and dynamic person, I love art, shopping, beauty and most of all I love my job. My first aim in life are my brides and grooms and make their dreams come true. That's why I like to think about myself as a wedding designer.
Even if in these years I have planned many events, I'm still excited during every wedding as if was the first time. I am a romantic person and I feel each time the same, special, unforgettable emotions.
With my team of expert wedding planners, we are specialized in organizing exclusive weddings in Italy, in many gorgeous venues on the Amalfi Coast and in Puglia, two stunning locations for your fairytale wedding day.
We could not imagine someone being more proud of our country: we live, we deeply know, but above all we love our territory.
Our constant presence in Puglia and on the Amalfi Coast, where we live, means that we know the locations, the suppliers and any critical issues and make us ready to face any circumstance.
We offer tailor-made wedding packages, according to your expectations, wishes and needs, starting from the paperwork procedures, till your wedding day. For us it's important to fall within your budget, so that you don't have to worry about the financial aspect. That means less stress and more free time, to live deeply your special day.
Our expert wedding planners on the Amalfi Coast work as if you were doing it yourself, paying attention to every detail and to every supplier, assisting you at every stage of the journey.
We will guide you in choosing the location that best suits your desires, come up with ideas and find solutions to make your perfect wedding come true, by listening to your needs and your dreams.
We have a familiar, warm approach, typical of southern Italy.
We would like you to live the true Italian experience, not only its unique landscapes, but also its worldwide famous flavors, perfumes and unique atmosphere.
Tell us what you would like and we will make your wedding come true!