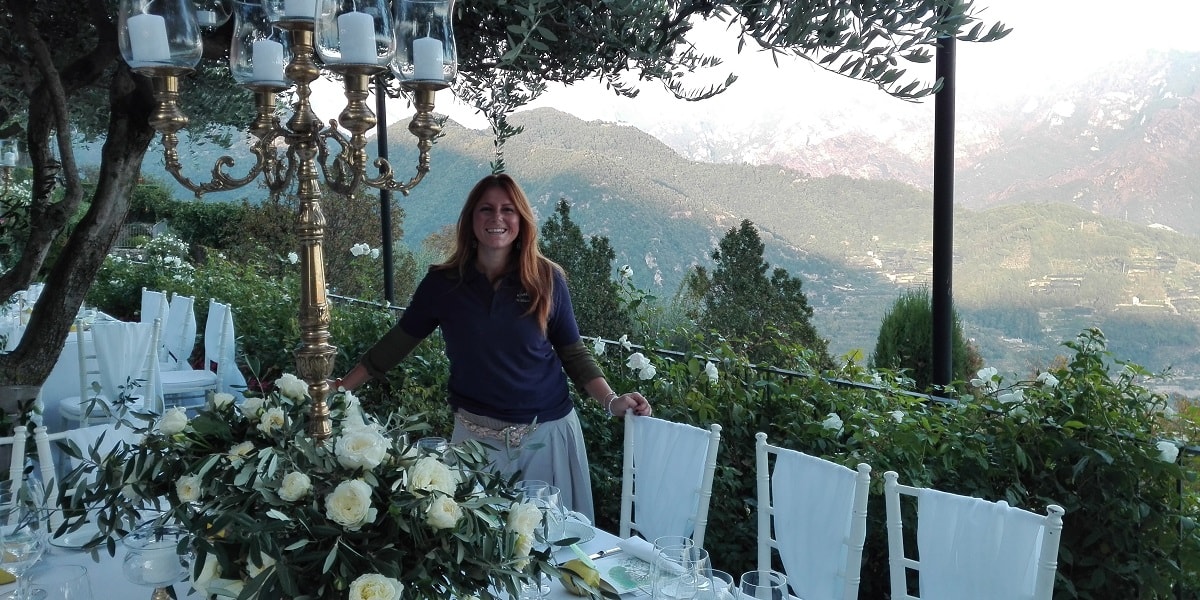 I'm Ines Napolitano, a wedding planner at your service, nice to meet you
Dear bride and groom, is a real pleasure to introduce myself, my passions and my job, that is part of my life.
I am Ines Napolitano, your wedding planner, but also the mother of a beautiful child, Riccardo Maria, and the wife of a man I deeply love. Together with our dog Rudy, that is part of our family, we live in the town of Scala, on the Amalfi Coast.
I am a sunny and dynamic person, I love art, shopping, beauty and most of all I love my job. My first aim in life are my brides and grooms and make their dreams come true. That's why I like to think about myself as a wedding designer.
Even if in these years I have planned many events, I'm still excited during every wedding as if was the first time. I am a romantic person and I feel each time the same, special, unforgettable emotions.
With my team of expert wedding planners, we are specialized in organizing exclusive weddings in Italy, in many gorgeous venues on the Amalfi Coast and in Puglia, two stunning locations for your fairytale wedding day.
We could not imagine someone being more proud of our country: we live, we deeply know, but above all we love our territory.
Our constant presence in Puglia and on the Amalfi Coast, where we live, means that we know the locations, the suppliers and any critical issues and make us ready to face any circumstance.
We offer tailor-made wedding packages, according to your expectations, wishes and needs, starting from the paperwork procedures, till your wedding day. For us it's important to fall within your budget, so that you don't have to worry about the financial aspect. That means less stress and more free time, to live deeply your special day.
Our expert wedding planners on the Amalfi Coast work as if you were doing it yourself, paying attention to every detail and to every supplier, assisting you at every stage of the journey.
We will guide you in choosing the location that best suits your desires, come up with ideas and find solutions to make your perfect wedding come true, by listening to your needs and your dreams.
We have a familiar, warm approach, typical of southern Italy.
We would like you to live the true Italian experience, not only its unique landscapes, but also its worldwide famous flavors, perfumes and unique atmosphere.
Tell us what you would like and we will make your wedding come true!

Holly and Ben, married on 09/04/2020
I cannot think of the words to describe how thankful we are for Ines and Adriano. We were so nervous planning an overseas wedding as we did not speak the Italian language but the second we found Ines my fears melted away. Not only was Ines so professional (and knew all the best suppliers!) she was so kind and caring.
However, it goes without saying that the biggest challenge and one that I am sure makes these pair the best wedding planners not only on the Amalfi coast but in the entire world was that they managed to plan a wedding in the middle of a pandemic! It is true that they encountered problems along the way with some suppliers cancelling but these were kept away from Ben and I to minimise the stress on us.
Ben and I will forever be grateful to Ines and Adriano. They made our dreams come true, they are our friends and we would never have managed to marry in a different country, in the middle of a pandemic, with 65 guests by our side (without any problems on the day!) without them.
I will always recommend Ines and Adriano to anyone getting married in Italy. They are professional, kind, always at the end of the phone whenever I needed them and above all our day was perfect. xxx
Read the full story on the blog
Perfect, professional, caring

Monica and Andrea, married on 07/27/2019
Would definitely recommend!
Many many thanks to Ines for her professionalism, attention to details and wonderful taste. We very much appreciated her openness and advices during the planning phase... which made the entire preparation a breeze.
Our Wedding Day has been unforgettable and we would definitely recommend "Mr&Mrs Wedding" to anyone planning such an important event.
Have a look at this intimate wedding with the scent of lemons and tulips
Amazing service and professionalism

Kristan and Peter, married on 05/17/2019
I would 100% recommend Mr. and Mrs. Wedding in Italy to anyone wanting to plan a destination wedding in the Amalfi Coast! Ines made the planning process as smooth as possible and made our dream of an intimate destination wedding a reality!
She has great connections with vendors and was able to accommodate all of our requests! She will answer your questions day or night and work overtime so she doesn't miss minute details. Overall, she was essential in planning one of the best days of our lives! We will forever be grateful to her for her expertise and hospitality!
Go to the real wedding gallery
The Best in Amalfi!

Susan and Richardo, married on 08/31/2019
Our dream wedding could be more beautiful, we got more than we expected. The kindness and understanding we got from our planner was so amazing. They did not only organized our wedding we also made two new friends.
I didn't cry on my wedding but i wanted to cry when i needed to say good bye to Ines. You have to have this beautiful People as your wedding planner, if you want your wedding to be as you dreamed of.
Read more on this boho chic wedding on the Amalfi Coast
You can't find better wedding planner

Shannon and Ross
It was an absolute pleasure to work with Ines and Adriano. They made planning a wedding from across the world so easy. They were so kind and helpful every step of the way.
Our wedding was the best day of our lives, and Ines and Adriano made it all possible.
Click here for the full reportage
Wonderful experience

Isabella and Peter, married on 06/22/2019
Wedding in Amalfi June 2019
Thank you so much Ines for helping us to organise our very special wedding in Amalfi!
Ines was not only our wedding planner, but became a friend of ours. We got on straight away - she is friendly, approachable and hospitable - which was so lovely as my husband and I are from London. Above all she is very organised, which meant that we could really trust her with planning our wedding.
Ines always made herself available to answer any questions or concerns we had. Her knowledge of local suppliers meant that we were able to source everything we needed. She was great at thinking of all the little details and touches to make the day unique. She was fantastic up until the wedding day itself - which she ensured ran smoothly.
We were very happy to have Ines as our wedding planner and would recommend her to anyone planning a wedding on the Amalfi Coast!
Read more on the blog
Ines became a friend of ours

Julia and Robert, married on 10/07/2018
We would highly recommend Ines as a wedding planner in Italy. She is so easy and flexible to work with. When we gave her ideas and suggestions, she would run with it and took all of the pressure off of our shoulders. Whatever we asked her to help us with, she was on top of it and quick to respond. It was like having one of your best friends plan your wedding - so personable and sweet and she is a perfectionist!
She is incredibly thoughtful and pays great attention to detail. She even helped sew a button on my wedding dress five minutes before the ceremony 🙂
The whole day was seamless and it was due to Ines' planning - she has connections to great vendors and she is full of excellent advice and suggestions. Super calm and easy to work with and a pleasure to be around. She made everything fun and enjoyable. Five star service!!! We would highly recommend her to anyone planning a wedding or event in Italy 🙂
Read the full story on the blog
Fantastic Wedding Planner!

Elain and Declan, married on 08/03/2019
Amazing, professional and will make your dream come true!
Ines and Adriano made our dream come true on the beautiful Amalfi coast. All year Ines communicated with me, put our minds at ease, she was even kind enough to allow us to post some decorations we wanted for the table in advance to her address in Italy.
She is truly a perfectionist and knew what we wanted as soon as we mentioned rustic/beach theme. Her attention to detail is second to none. Being a local woman, she had all the right contacts. This included the more tricky part of planning with the church paperwork abroad etc.
On the day, they blew us away. Everything was brill and way above and beyond. Ines decorated our wedding cake and dinner table with extra stuff, ensured the day ran smoothly and did it all with a smile. She is a wonderful woman to do this job. We are on cloud nine and can't thank you enough. Would recommend Mr and Mrs Wedding in Italy whole heartedly to anyone!
Have a look at the real wedding
Perfection!

Daniela and Andrea, married on 07/12/2019
Ines is a very sweet and efficient person, she'll follow you with love and professionalism taking care of every detail of your most beautiful day. I highly recommend her!
The real wedding on the blog
Excellent service!

Ally and Bo, married on 10/15/2019
Ines and her husband are amazing! They are genuine and kind people who brought our vision to life!
My husband and I planned a last minute elopement on the Amalfi Coast and in less than 10 days, they made all arrangements that exceeded our expectations. They were incredibly responsive and helped identify all vendors based on the vision we shared.
5 Stars all around!

Sara and Aaron, married on 12/14/2018
We we're so blessed to have Ines help us with our wedding. From planning several months in advance all the way up to the big day Ines was with us every step of the way!
We couldn't have asked for a better wedding planner than Ines. From helping to document our wedding to borrowing her husbands tie, coordinating everyone and everything, I honestly cannot say enough about how seamless everything was. It was an honor to work with such a caring, lovely and passionate lady.
Thank you for creating memories to last a lifetime, Ines! Thank you for being patient and flexible with us. Thank you for providing the best photography and flowers and thank you for always being there up until the event and even afterward to make sure all of our desires were met! You are a true gem! Grazie Mille!!!
Best wedding planner!

Lisa and Thomas
Glowing review for Mr. and Mrs. Wedding in Italy! We were unsure that we would be able to pull off a ceremonial wedding in Italy coming from Florida with less than 3 months to spare but then we stumbled across Mr. and Mrs. Wedding in Italy.
We had our 14 day trip booked almost a year ago but then just decided to get married and turn the trip into a honeymoon while we were over there. Ines jumped right in and was able to plan everything perfectly. They let us know all of our options and tailored our special day down to the very last detail. The communication leading up to the big day was excellent.
Once we were there, Ines was also kind enough to help us navigate our way around town as we do not speak Italian. Ines even offered to take a suitcase with our wedding clothes to the post office so we didn't have to lug it around for the remainder of the trip!
We cannot thank them enough for their wonderful service. We would not have been able to pull off this dream come true if it wasn't for Mr. and Mrs. Wedding in Italy!
100% recommendation

Lauren and Alvin, married on 2/22/2020
Ines and Adriano were amazing people to work with, very professional and extremely patient to my needs and wants.
This is the first time ever having to plan anything from the other side of the world and they helped eased my anxiety to make my perfect wedding dream come to life.
I would definitely recommend Mr and Mrs 1000%. Thanks to Ines and Adriano, our wedding day was perfect and made memories that will last a lifetime!
Wonderful experience and pure perfection

Ksenya and Darren, married on 06/13/2019
Adriano and Ines are amazing guys!
I'm very grateful to them, for they work!
I'm wishing you success in everything!
Highly recommend this agency

Gina & Michael, married on 08/17/2018
Ines and Adriano made my wedding dreams come true with their attentiveness and care while planning our ceremony in Italy. I put my trust in them and they were professional, yet personal too and we simply adored our special day and will remember it forever!
My wedding dreams come true!

Joanna and Andrea
Ines and her team did an amazing job for our wedding. She was extremely flexible and accommodating with everything. We were originally planning a wedding a year in advance and she was more than accommodating to our decision.
She gave us the best wedding we could imagine! Everything was perfect and stress free because of her. The location in Amalfi was stunning and the cloister for the cerimony unique.
Couldn't recommend her services more! Very happy with how everything turned out.
All was perfect!

Jessica and Marco
Ines and Adriano were WONDERFUL! I had the best wedding day, start to finish. I did not have any issues, Ines took care of everything. My table was decorated so beautifully by her.
Best wedding day, start to finish

Anthony and Amanda
Ines and Adriano are nice person and mainly professional planners. They planned our wedding in Ravello in a great location and take care of all our requests. They work with all the best suppliers of the area and are really available to everything you ask even for the pre wedding and the after wedding.
The wedding location was WOW and they made really a great job. We recommend them to all the couples who want to live a dream in Amalfi Coast.
Amazing staff and great location