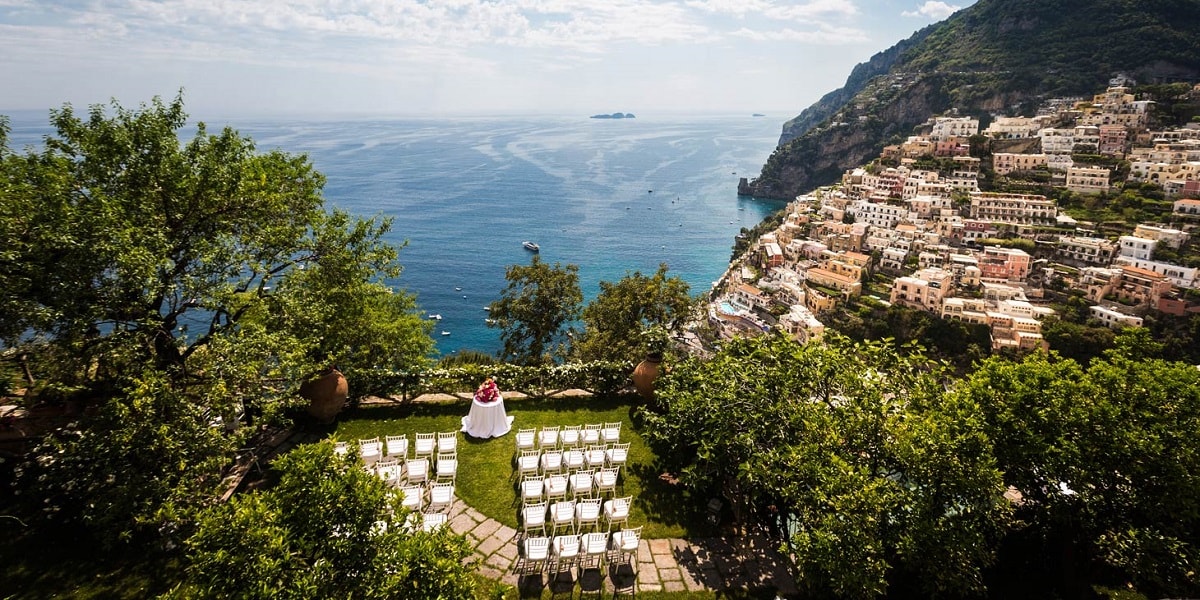 A wedding  in a garden  on the properties of private villas, castles, hotels of Amalfi Coast facing the sea is something you will never forget.  Simbolic, civil and no-catholic cerimonies , and wedding reception can be arranged in one of this beautiful venues.
The ideal season for a garden wedding is in the Spring/Summer or in September and October, when  these beautifully and unique venues provide a stunning backdrop for your ceremony and wedding photographs you will treasure.  Here you can look at some of garden wedding venues that where we can coordinate your wedding in Italy.
It is today one o f the most prestigious Hotels de Charme and wedding venue all over the world. Atmosphere and suggestion of past times pervade the ancient 12th century dwelling and a magnificent park of 6 hectares,with boasts beautiful gardens as the ideal setting your esclusive wedding in Ravello
This isn't  just any Italian Hotel but a unique gem set in the rocky Amalfi Coast. A private house in the beautiful town of Praiano,  just minutes from Positano, with his  garden of over 5000 square metres, is undoubtedly one of the most charming and high-class wedding venue in Amalfi Coast for your fairytale wedding
A splendid villa in late liberty style, with a protracted harmonic outline has been always an ideal location for ceremonies, exclusive meetings and weddings in ravello. Located next to the historical centre, is a small jewel of 3000sqm park of centenary trees and thanks to its position, enjoys a splendid 360° view of the coast below.