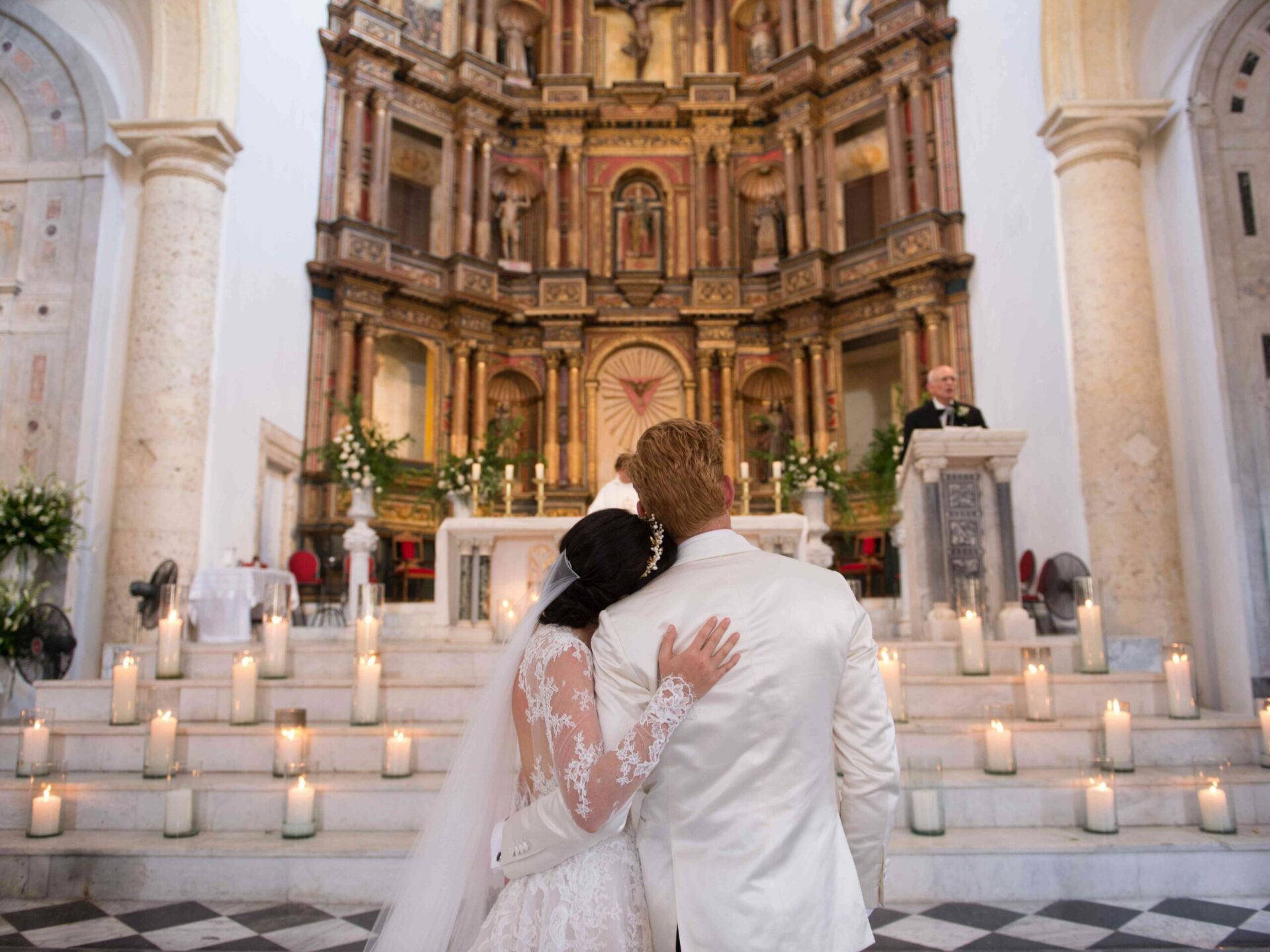 Catholic Ceremony in Amalfi Coast
If you are a Catholic couple seeking a truly captivating and spiritually significant wedding experience, the Amalfi Coast in Italy beckons with its breathtaking beauty and rich cultural heritage. Nestled along the azure waters of the Mediterranean Sea, this enchanting region provides the perfect backdrop for a Catholic wedding filled with love, devotion, and timeless traditions.
To have a Catholic wedding on the Amalfi Coast, there are certain requirements that need to be fulfilled. One of the key prerequisites is that at least one of the individuals getting married must be Catholic. Additionally, if either party has been previously married with a religious ceremony, an official annulment from the religious authorities is necessary to proceed with a Catholic wedding. These requirements ensure the sacramental integrity of the Catholic marriage ceremony and reflect the teachings of the Catholic Church.
Legal Requirements and Regulations for Catholic Ceremonies 
In Amalfi Coast, a Catholic ceremony can involve both a civil and a religious ceremony. The specific requirements and timelines for meeting with the parish priest before the wedding may vary depending on the chosen church and the nationality of the couple. Generally, couples are expected to meet with the priest one or two working days prior to the wedding.
To ease the process, Mr and Mrs Wedding in Italy offers comprehensive assistance with all the necessary religious paperwork, ensuring that couples are well-prepared for their special day. It's important to note that church fees for the ceremony will be determined by the selected parish, and they are typically payable when the wedding date is confirmed. We can guide couples through this aspect as well, ensuring a smooth and organized wedding experience that incorporates both the religious and legal requirements of a Catholic ceremony in Amalfi Coast
Essential Requirements for Catholic Ceremonies on the Amalfi Coast
To have a Catholic ceremony in Amalfi Coast, regardless of nationality, there are certain requirements to fulfil. Here are the general wedding requirements for Catholic weddings:
Baptismal and Confirmation Certificates: The couple must provide valid certificates of baptism and confirmation. These documents should be recent and issued by the church where the sacraments were administered.
Pre-Cana Course: Couples are usually required to complete a pre-marital course called Pre-Cana. This course aims to provide guidance and preparation for a successful Catholic marriage. Proof of completion will be needed.
Nulla Osta: Couples who are not Italian citizens must obtain a Nulla Osta (no impediment) from their respective embassy or consulate in Italy. This document confirms that there are no legal obstacles to the marriage.
Documents for Civil Requirements: In addition to the religious requirements, couples must fulfil the civil requirements mandated by the Italian government. These include obtaining a marriage license and providing necessary documents such as passports, birth certificates, and any required legal paperwork.
Meeting with the Priest: Couples must meet with the parish priest of the chosen church in Italy. This meeting is typically scheduled a few days prior to the wedding. The priest will guide them through the process, discuss the ceremony details, and ensure all requirements are met.
It's important to note that specific requirements and procedures may vary depending on the church, diocese, and location in Italy. Therefore, it is advisable to consult with the chosen church and seek guidance from professionals specializing in destination weddings in Italy to ensure compliance with all necessary requirements.
Captivating Catholic Wedding Venues on the Breathtaking Amalfi Coast
The Amalfi Coast is renowned for its breathtaking beauty and is home to some of the most stunning and ancient churches in the world. If you choose to have your Catholic wedding ceremony in the Amalfi Coast, you can expect to exchange your vows in a beautiful church located near your selected venue. The options for Catholic wedding venues in this region are diverse and captivating, ranging from imposing cathedrals and historic basilicas to enchanting little churches tucked away in the countryside or situated by a romantic lake.
Immersed in the picturesque surroundings of the Amalfi Coast, these Catholic wedding venues offer a blend of architectural splendour, cultural heritage, and natural beauty. Whether you prefer a grand cathedral that impresses with its magnificent architecture or a quaint church nestled amidst the scenic countryside, you are sure to find a venue that perfectly suits your vision for your special day.
With their rich history and stunning aesthetics, the churches of the Amalfi Coast create an enchanting and romantic atmosphere for your Catholic wedding, adding an extra touch of magic to your celebration of love. Experienced in Catholic ceremonies and document preparation, Mr and Mrs Wedding in Italy offers expert guidance. With their extensive knowledge, they ensure a seamless planning process, allowing couples to focus on their special day. Trust their expertise for a memorable and hassle-free Catholic wedding experience.
                              "A Divine Destination: Catholic Weddings on the Enchanting Amalfi Coast."