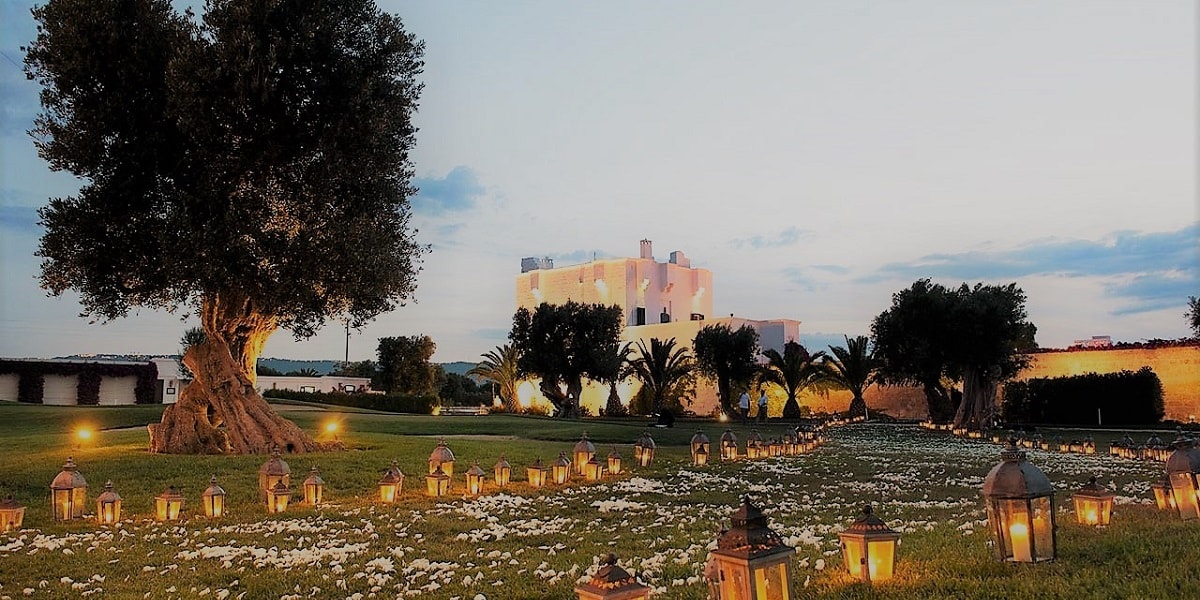 The perfect choice for your boho chic wedding in Italy
Close your eyes and try to imagine an enchanted white beach overlooking an immense stretch of greenery. Now hold your breath and take a dip into an ancient and magical past, with rustic farmsteads and charming olive trees, where reality far exceeds imagination. Now open your eyes and live your wedding in a masseria in Puglia.
Getting married in this Italian region is a bit like marrying Apulia itself with its customs, flavors and traditions. A wedding ceremony under olive trees by the sea, between the characteristic deep red soil and the light blue horizon: a country chic wedding in an Apulian masseria is an experience that no one will ever forget.
Once ancient aristocratic mansions, these fortified properties range from five-star hotels with luxury spas, gourmet restaurants and modern facilities to large elegant houses with spectacular gardens and swimming pools. That's why, whatever your budget and number of your guests, Apulian masserias are the perfect solution for your boho chic destination wedding in Italy.
Among the 100 most romantic hotels in the world, is located on a large estate in Savelletri di Fasano, near Brindisi, not far from the sea. Surrounded by an immense cultivation of olive, almond and carob trees, this 16th century tower, once a defense tower against Saracen incursions, is now an elegant 5-star resort and an exclusive Italian destination wedding venue.
This Masseria of noble origins, dating back to 1696, located 20 km from Bari and a few steps from the sea, boasts an outer space of about eighty hectares and has three different rooms with a front courtyard and an ancient garden that bears witness to its glorious past, as well as six rooms to host bride and groom in their wedding day.
The Masseria Santa Lucia – La Dolce Vita Beach pleases our couples for its perfect combination of an old- fashioned farmhouse and a magnificent beach of fine white sand, which creates fairytale emotions. Surrounded by greenery, a few meters from the shores of the Adriatic Sea, it offers, in a contemporary key, the hospitality and traditional features of the ancient Apulian farmhouses: an evocative world of past times, to which the architecture of the hotel is discreetly inspired.