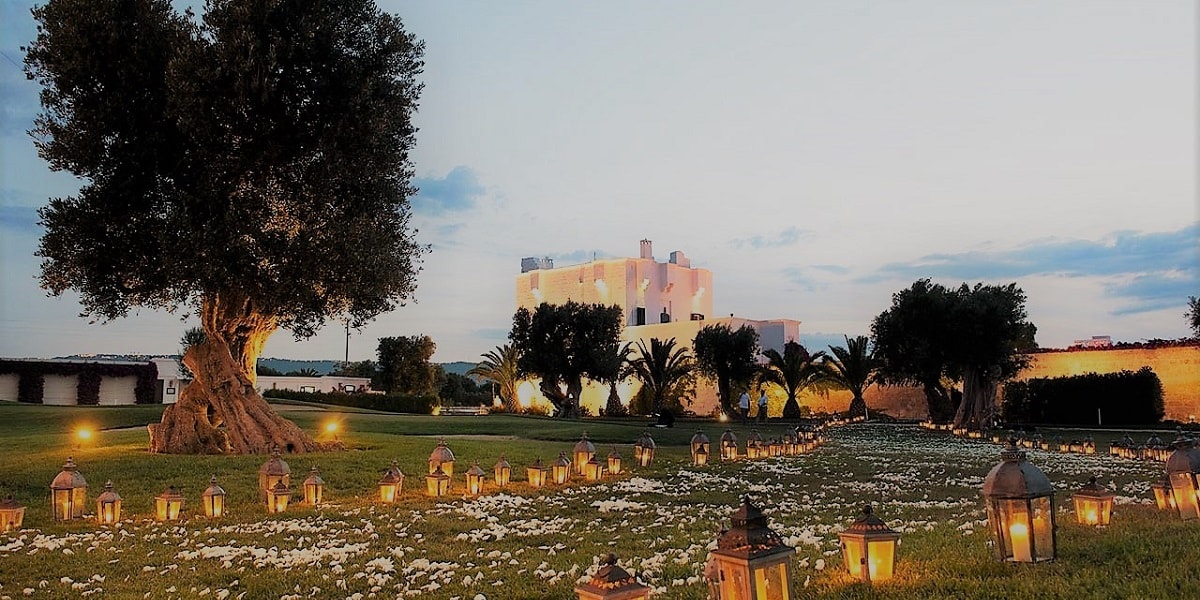 The perfect choice for your boho chic wedding in Italy
Close your eyes and try to imagine an enchanted white beach overlooking an immense stretch of greenery. Now hold your breath and take a dip into an ancient and magical past, with rustic farmsteads and charming olive trees, where reality far exceeds imagination. Now open your eyes and live your wedding in a Masseria in Puglia.
Getting married in this Italian region is a bit like marrying Apulia itself with its customs, flavors, and traditions. A wedding ceremony under olive and citrus trees by the sea, between the characteristic deep red soil and the light blue horizon: a country chic wedding in an Apulian Masseria is an experience that no one will ever forget.
Once ancient aristocratic mansions, these fortified properties range from five-star hotels with luxury spas, gourmet restaurants, and modern facilities to large elegant houses with spectacular gardens and swimming pools. That's why, whatever your budget and the number of your guests, Apulian Masseria is the perfect solution for your Italian countryside destination wedding, as well as the idyllic setting of your honeymoon in Puglia.
.
Among the 100 most romantic hotels in the world, is located on a large estate in Savelletri di Fasano, near Brindisi, not far from the sea. Surrounded by an immense cultivation of olive, almond and carob trees, this 16th century tower, once a defense tower against Saracen incursions, is now an elegant 5-star resort and an exclusive Italian destination wedding venue.
Painted in the colors of Puglia, a few steps away from the sea and 30 minutes from Bari and Brindisi international airports, this masseria, together with its four small independent houses, two swimming pools and the garden, offers, in a contemporary key, the hospitality and traditional features of the ancient Apulian farmhouses.
Built in 1800 in Savelletri di Fasano, on the outskirts of Salento, the ancient Masseria Don Luigi has the distinctive Apulian architecture hallmarks: squared lines, lime thick walls and poor art furnishings. Recently restored, Masseria Don Luigi has preserved its ancient charm and the original architecture. It's a perfect combination of Apulian tradition and modern comfort: an elegant relais with a sober and refined style.
This elegant and refined Masseria in the heart of Ostuni, 5 km form the sea and 30 minutes from international airports, is a perfect location to enjoy a special stay and to host unique events. A play of stone arches and the grand entrance staircase will welcome your guests into a regal atmosphere, a unique experience through centuries of history and timeless rituals.