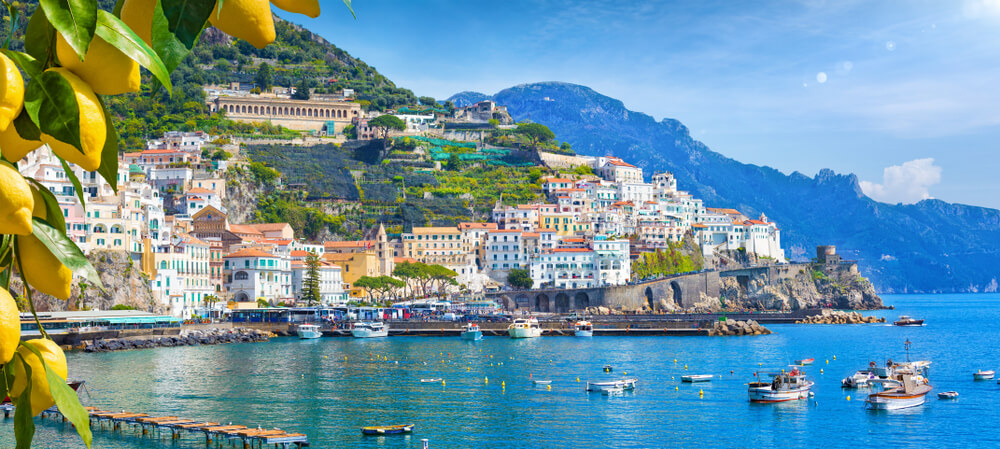 Destination Weddings In Amalfi Coast
Destination Weddings In Amalfi Coast is a unique and unforgettable experience
A landscape is unique in the world with its bays, inlets, sheer cliffs, and small villages perched on the mountains, with its sea views, each so different, each evoking a natural sense of freedom. Impossible not to fall in love with the Amalfi Coast, its charm, and local traditions.
Pastel shades, picturesque panoramas, and wonderful scenic villages, such as Ravello, Amalfi, and Positano, the essence of luxury and romance, characterize the superb scenery of the Amalfi Coast.
A wedding on Amalfi Coast is a dream come true. Love is in the air and the special mix of natural beauty and history makes unique and exclusive any event you celebrate in this enchanted place.
If you decide to get married on the Amalfi Coast, you can choose from the best wedding venues in Italy, taking advantage of the precious support of our expert wedding planner who will advise you according to your needs and expectations.
The extensive knowledge of this area full of treasures and of local service providers and suppliers is the secret to our success. We make our expertise and our contacts available to all couples wishing to get married on the beautiful and romantic Amalfi Coast.
The choice for your event location is wide: private villas, lemon gardens, or five-star hotels overlooking the sea. The most important day of your life deserves the best venue, where the beauty of the landscape combines with delicious food and the refined "Made in Italy" lifestyle.
We specialize in romantic bespoke destination weddings in Amalfi Coast and the most breathtaking locations in Italy. If you are looking for luxury wedding arrangements, believe me, if I tell you that Ravello and the Amalfi Coast are the answer!
Reasons To Hire A Wedding Planner For Destination Weddings In Amalfi Coast
Fewer events are lovely than a destination wedding in the place of your dreams. Aspects that are unique include the breathtaking beauty of nature, the illustrious past of the historical location, and the warmth of friends and family. Yet behind the scenes, there are countless moving pieces at work. Be cautious if you are organizing a destination wedding in Amalfi Coast by yourself. You can be doing yourself or something else a disservice. Think about the benefits of working with a wedding planner.
Don't try to complete it on your own.
Without expert guidance, wedding planning may be overwhelming. You unquestionably need a wedding planner's assistance for a destination wedding. A few couples have travelled to their wedding location ahead of time, but not all couples do. It is therefore particularly challenging to plan the specifics of the most significant day of your life from a remote location.
Wedding Locations in Amalfi Coast