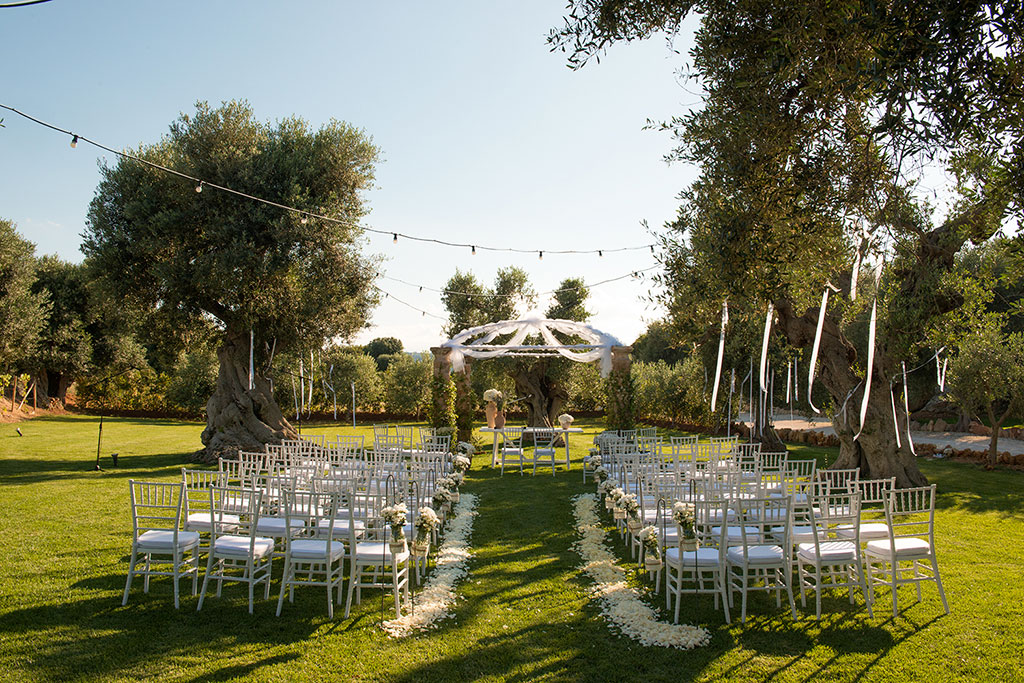 Would you like an outdoor summer wedding? If you love green open spaces, why don't you consider celebrating an olive-themed wedding? It's simple and country chic, yet elegant and refined in a typical Italian Mediterranean style.
The olive tree is a millenary plant, considered, since ancient times, a transcendent symbol of spirituality and sacredness. The ancient Greeks and Romans used the olive tree to crown the winners of the Olympic Games. Later, in the Christian tradition, it took on a symbolic meaning of rebirth and peace.
In addition to its important symbolism, thanks to the simplicity and elegance that distinguish it, the olive tree is well suited to be included in all the typical wedding decorations.
Here are some guidelines to get ideas and inspiration.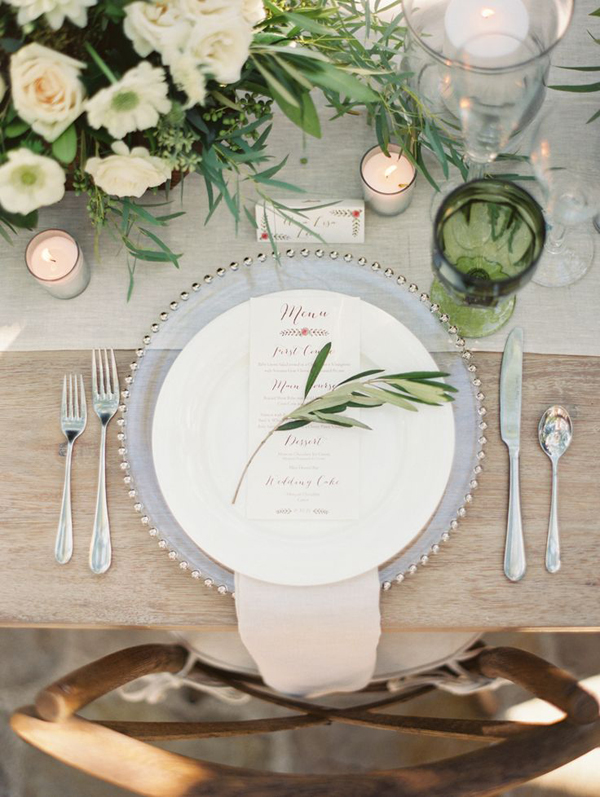 Color palette
An olive tree themed wedding is characterized by a natural palette with all the essential earth colors. So, starting from a neutral base, we say yes to:
Olive green, of course, but also all the opaque green shades such as sage green
Brown and all its shades, from the lighter ones like taupe, to the darker nuances, including the metallic colors, such as bronze and gold
White, in its warmest shades, such as zinc white, ivory and pearl white
At this basic palette, you can then combine the specific color chosen for your event, better if it's a pastel shade, such as yellow, antique pink, purple, lavender, mauve, dark blue or light gray.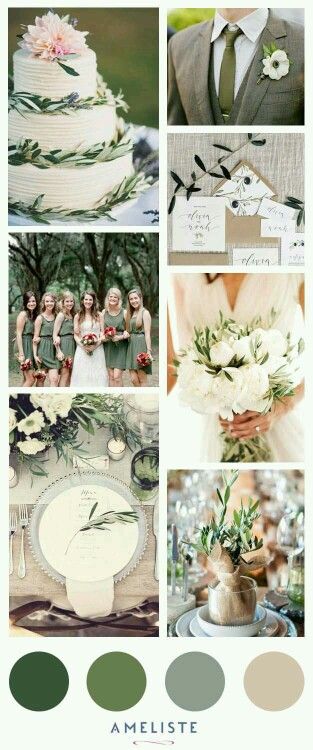 Wedding invitations: white and olive green, of course!
Prefer a paper made of natural fibers, strictly in white color, in one of its warmest shades, such as ivory, milky white or antique white. On this neutral background you can insert decorative graphic elements inspired by nature, such as an olive branch, a garland or a golden foliage, for a super-refined touch.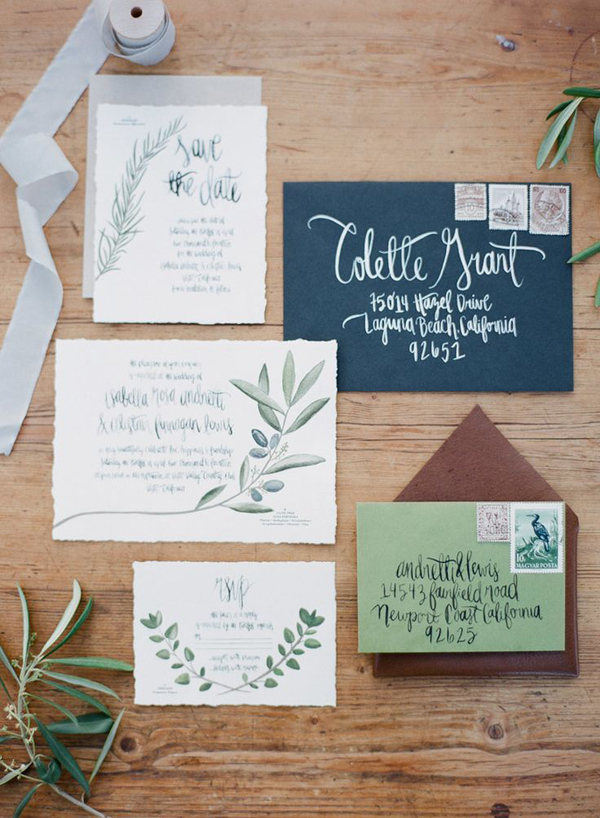 The bride and groom: natural look
Every detail of this olive green-themed wedding focuses on simplicity. According with the theme, even the bride has an essential and not very elaborate look, with a clean make-up, which enhances the eyes without exceeding with the color.
Wedding dress: country or vintage style dresses are perfect, with non-exaggerated necklines, light fabrics and transparencies on the back. To complete the look you can insert olive branches in a soft hairstyle and in the bouquet, for a très chic touch.
Groom's suit is perfect in all clear and warm nuances, like beige and taupe, as well as in the more classic dark blue. Finally, the buttonhole cannot be missing, clearly created with small olive branches.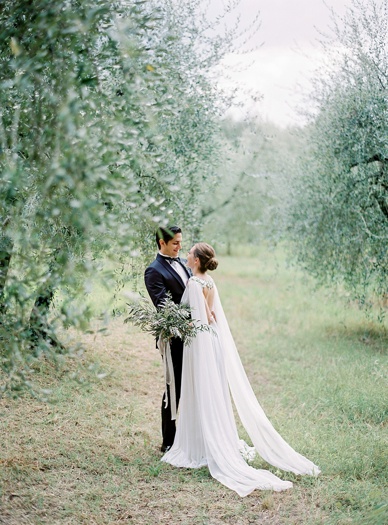 The wedding venue: surrounded by greenery
Which are the locations that best match this wedding theme? Well, speaking of earth, olive trees and neutral colors, nature and its scenic wonders immediately come to mind. Without thinking too much, the choice of the wedding venue falls on a large estate surrounded by greenery or on a restaurant with an olive grove.
In such a location, elaborate compositions are not necessary. It is enough, in fact, to exalt the beauty of the nature that surrounds it, arranging here and there garlands of olive branches and white candles, gaining in class and refinement.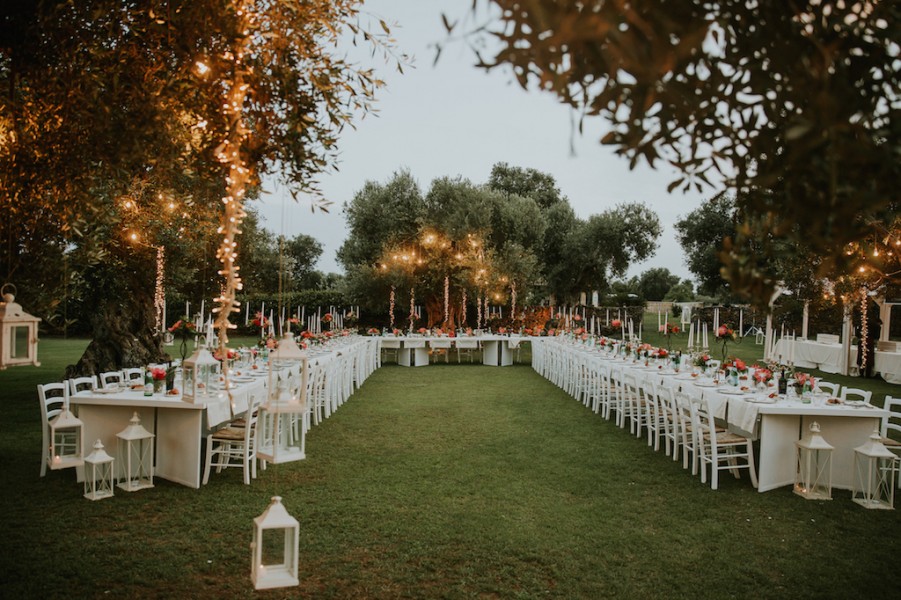 The tableau mariage: with olive twigs
As a tableau mariage you can use a wooden or wrought iron staircase, decorated with olive branches and jute ribbons, of the main wedding color. Hang to the ladder some rough, antiqued, strictly white paper cards with the names of your guests and their tables.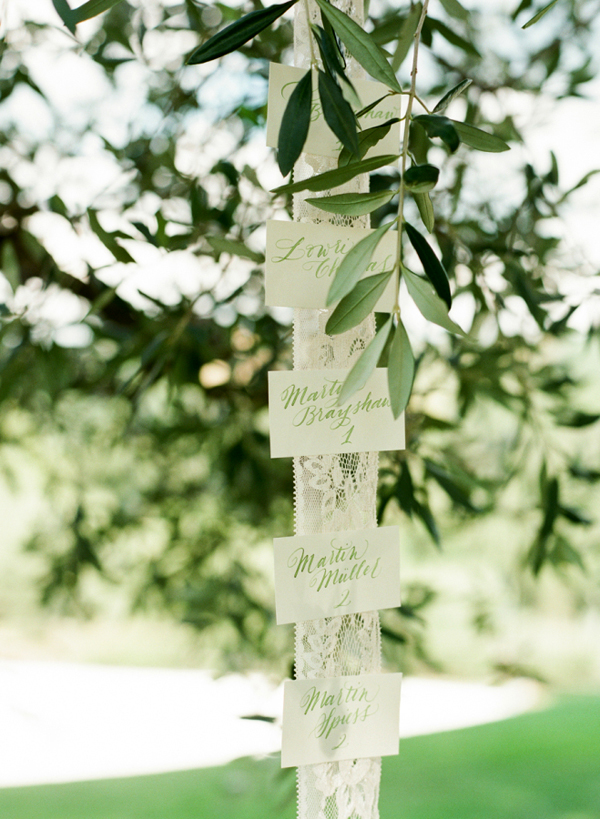 Location setting: rustic and antique
Essentiality and simplicity are the keywords. Arrange the seats under magnificent olive trees and decorate them with small bunches of olive branches, tied up with jute cords.
Leave the classic round tables and choose rather long rectangular wooden tables, perhaps with a rustic central table runner, on which to place a centerpiece composed of olive branches and delicate roses or white peonies.
For the mise en place, choose dishes and cutlery crafted with ancient drawings. In the middle of the plate place a small olive branch, the common thread of the whole event.
Wedding cake: naked
The best choice for the wedding cake is certainly the naked cake: simple and tasty, without too many layers and decorations. Alternatively, you can choose a wedding cake covered with total white sugar paste: just decorate it with a few olive sprigs and the result will be minimal and elegant.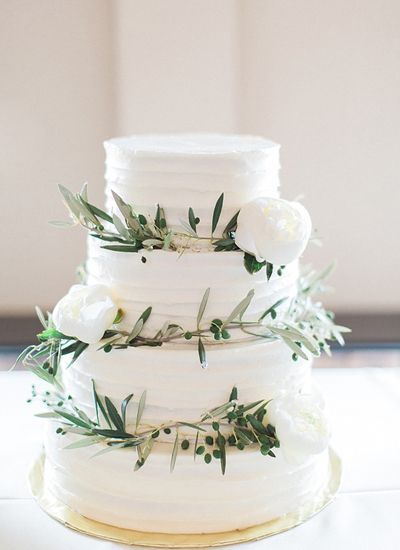 Wedding favors
As a gift for your guests, you can opt for a small bottle of artisan oil with a personalized label.